A beautiful weekly
task calendar.
Weekrise makes it easy and intuitive
to organize all aspects of life.
Task management, designed for
people, not robots.
Weekrise is built to help you, not to get in your way.
Weekrise's feature-set has been carefully chosen to help you get your work done without getting in your way.
Tasks intentionally don't have times associated with them that way you're not bound to strict timeframes. And if something takes a bit longer than anticipated, no rescheduling is required.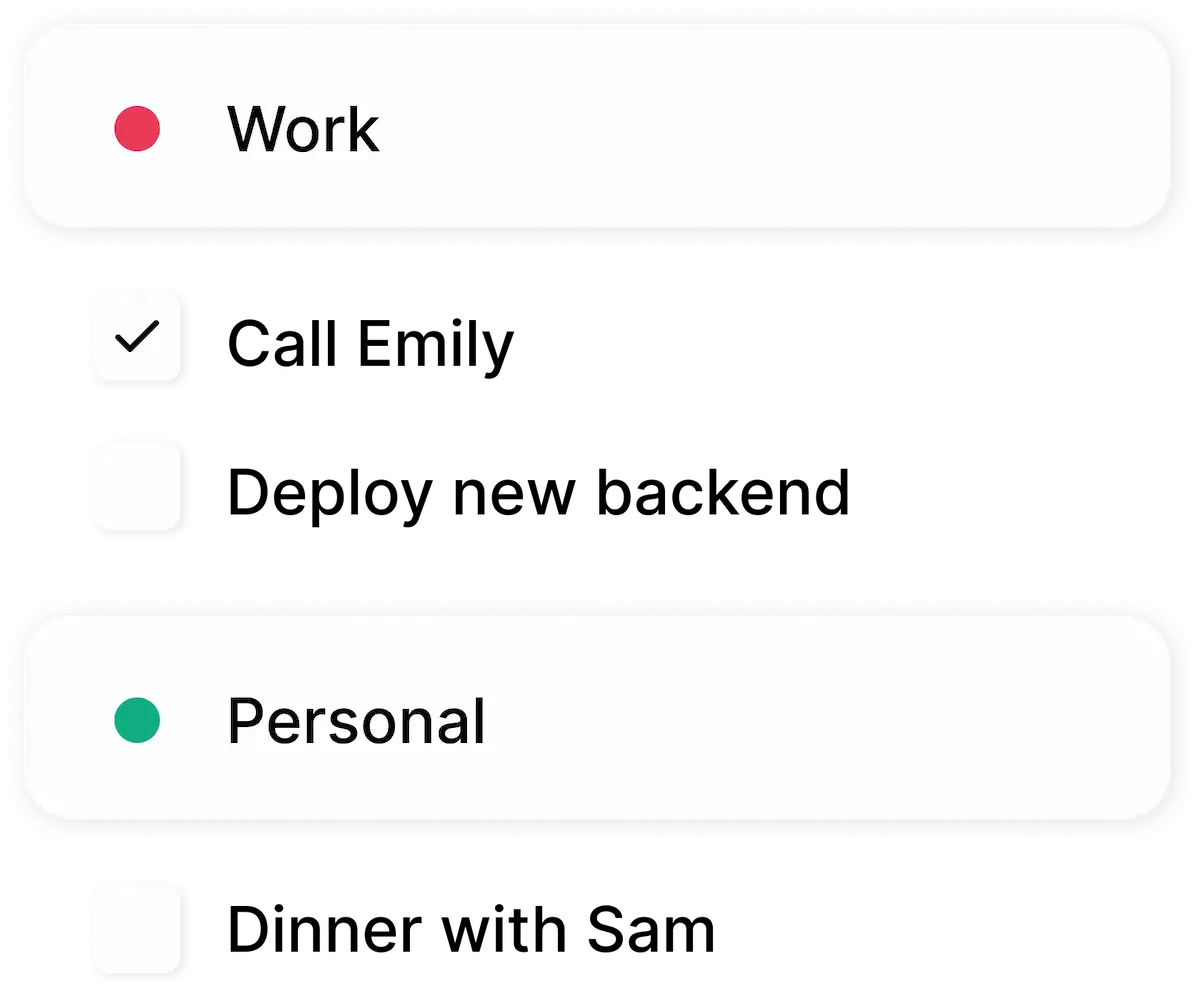 Get organized
with projects.
With projects you can keep track of goals or just group tasks together.
In Weekrise, projects allow you to organize tasks further. Not only can you assign projects to tasks on the calendar, but you also have a board for each project where you can put tasks for which you don't have a date.
Enhance your productivity without
spending hours organizing
calendars and todo-lists.
Work together,
seamlessly.
Weekrise is built with collaboration and sharing in mind.
Invite family, friends, co-workers, or anyone else and collaborate using Weekrise.
Share it with
your team.
Invite as many people as you want to your calendar.
You can easily assign tasks and see who's working on what.
Share it with
the world.
Make your calendar public for everyone to see - they won't even need a Weekrise account.
We've got you covered!
A feature-set that makes sense.
Manage tasks
on the go.
Weekrise is optimized for mobile devices.
No matter if you're in the desert, on a plane, or at the office. Weekrise is always with you.The best part is: our mobile experience has the fully-fledged feature set of Weekrise.
Repeating tasks.
Things repeat! That's why Weekrise has full support for repeating tasks.
Our repeats are smarter than simply copying a task. Repeating tasks synchronize certain things, like the project, but keep other things independent, like subtasks and the done status.
Get detailed,
with subtasks.
With Weekrise you can split up large tasks into smaller subtasks.
Subtasks are a great way to keep track of your progress.
Always in sync.
Your Tasks, Projects, and Calendars are synchronized across all your devices.
You can create events on your computer and pick up where you left off on your phone.
Today's tasks.
With the Today View, you can see all tasks that are due today across all calendars.
No more switching between calendars.
Multi-Calendar support.
Not everything fits into a single calendar.
That's why Weekrise supports multiple calendars. For example one for work, one for personal things, and one for that side-project you're working on.